Some of you are all about the specs. So.. here's a rundown of the board:
The board is running on:
A Commodore 128DCR Computer
A RGB ->VGA Adapter hooked to an LCD monitor
Centipede BBS Software
A 1MB 1750 Clone
Most of the board is in RAM to make it much, much faster
A Swiftlink RS232 adapter with ports open at 38,400 which is … holy crap fast
A CMD HD with a 8GB Compact Flash card hooked to an Aztec SCSI to CF adapter. Instant seeks.
Hooked to a POS Windows computer running BBS Server 1.4a with real COM ports to make it stable.
Here's the man-cave with the goodness going on: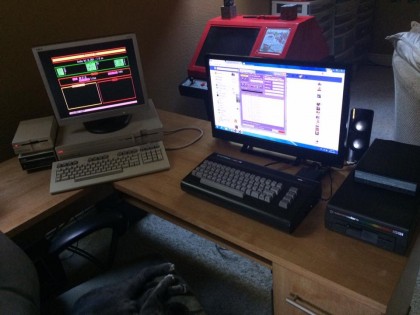 And the back of the 128: